Login
Log in if you have an account
Dont have an account? Register
Yonex All England Open 2021 Preview
16 Mar 2021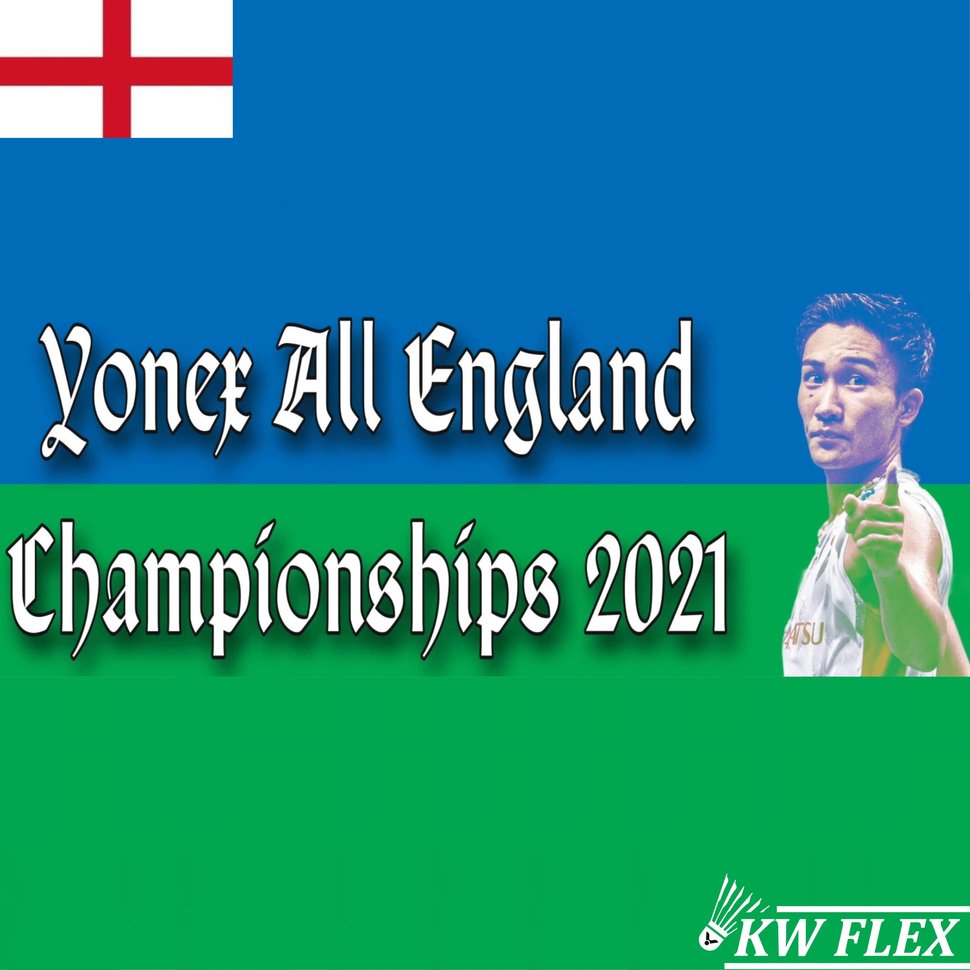 BADMINTON FANS all over the world.... ARE YOU READY??!!!
The Legendary, prestigious All England Tournament will start on the 17th of March and will end this Sunday on the 21st of March.
Yonex All England Open 2021!
For badminton fans who do not know about this Legendary Tournament, let me begin with some information you need to know... The All England is the Oldest Tournament of the world... For so many years it has been prolonged and became one of the highlights in the world of Badminton sport. 
There are other prestigious titles in badminton, such as World Championships, Olympics, Thomas Cups, Sudirman Cups, Continent Championships (Europe and Asia most known, Asian Games) and the Tour Finals Championships...
Next to those big events the tournament 1000 status is rated as the three strongest tournaments of the tour.. Indonesia Open, China Open, and currently Thailand Open are amongst those heavyweight tournaments.
Before the Official World Championships, the All England was considered the world's best and strongest tournament. Every Asian player has only a few desires to be the absolute champion and All England was The most important one.... if you win All England, well you have written history for yourself and your country!
The Pride and respect which you get when you win in Birmingham, is something people won't forget..

I have been there as a spectator several times and everytime with different people I have a connection with.. Visiting many top tournaments is a privilege, but after some big ones I can fairly say All England has that EXTRA magic touch.. You can compare it with the status of Wimbledon for Tennis for example, very well organized and the venue is magical.
People from all over the world are gathering to witness this majestic tournament, some are even dressed with all sorts of wigs, 'country-clothing' and you can feel the support from fans shouting in every language you can think of...
I can talk hours and hours about this tournament, but as a 'real' badminton fanatic.... My advice for you is to have at least witnessed the All England Live, once in your life... This may sound a bit strange; but if you really LOVE badminton... Then this is the top 5 tournaments to go to.... IF not the best tournament to visit..
Quite disappointed I can not attend it this year due to Corona, I have promised myself to visit it as soon as possible.. For sure many matches will be streamed, so at least try to follow the tournament with the best streaming in the world; BWF YouTube...

Preview All England Draws:
Mens Singles:
You can see it all over the social media; Kento Momota (Astrox 99, Aerobite, Shb-65 Z2 sapphire) back on court again?? Viktor Axelsen (Yonex Astrox 100 ZZ, BG-80, 75th Power Cushion 65 Z 2) has become very strong in the last few months.. Who would win this Titan Clash??
Well we don't have the answer to this question... As anything can happen at a All England Tournament.. This year, 2021, will be without audience... And maybe the Mental Part will play a crucial role this time.. We already saw Anders Antonsen (auraspeed 90K, Vbs-63, Victor A950) winning over his fellow compatriot.
When we look at the draw it will be most likely that this match will 'repeat' itself again at the semi-finals, because Antonsen is in the same half of the schedule as Axelsen.. This could be a very heavy match for this round, if they win over their previous opponents in three rounds..
But this is not the only heavy match, because Kento Momota has prepared himself heavily. We will see progress him three rounds as well, if he wins over Lee Zii Jia (Victor Thruster TK-Ryuga, Vbs-66, S82 CX Gold)...

Speaking about Lee Zii Jia; he showed a tremendous form last year, could he achieve the same at his edition?? But let's predict that Momota can play very solid like he can and win...
The most spectacular match is about to be shown; it is considered by many badminton specialists, the highest level shown on court since the last few years.. The infamous, MOMOGI..... (Momota vs Ginting battle) in semi-finals.. 
Somehow this is the best treat for human eyes to watch in terms of spectacular badminton.. Out of this world technique, speed and sensational rallies continuously are the trademarks EVERY TIME THEY MEET.... Will it be a surprising Ginting taking the win this time??
We can not forget other world players like Jonatan Christie, Rasmus Gemke etc. Also, curious to see Vitidsarn, Popov and Sen play as they are still young but very talented... Nice to see they are already getting experience!
To close the mens singles I just want to highlight our Dutchie Mark Caljouw .. We support him of course residing from the Netherlands!!!!

Ladies Singles:
I have to start off with some sad news unfortunately...
Carolina Marin (Yonex Nanoflare 700, Aerobite Boost, 75th Power Cushion Aerus Z Women) has withdrawn due to an injury... Raging Marin had this nagging injury during the Swiss Open.. I guess she won't take any risk and decided to let this AE pass.
Unfortunatly, the most beloved technical wonder Tai Tzu Ying (Victor Thruster F claw, Vbs-66 string, P9200 AB) does not take part as well.. They would be for sure two big candidates for another All England triumph, well that's not possible anymore. Think about this.. Tai could have won one more title to become equal with the supreme performances of Susi Susanti (Indonesian Legend), winning the Title in England four times!!!
Let's stay positive! The Ladies Singles matches will become extra hard-fought now, because of the absence of these two strong players.
In the Top Half, you will find Indian top player, ex world champion Pusarla Sindhu... Akane Yamaguchi will play on the holy grounds very fit. And then we have maybe a surprise; can Pornpawee Chochuwong bring somthing special in this edition in 2021? We can not forget Mia Blichfeldt, who will fight for Europe to secure a medal on stage this sunday.
For sure in the bottom half of the schedule we see Nozomi Okuhara, who is up for the challenge again. She has won many big titles in her career and is not seeded second for this tournament as a wild guess. In the semi-finals I predict a huge battle against the youngest world senior champion ever; Ratchanok Intanon (Nanoflare 700, BG65ti, 75th Power Cushion Aerus Z Women) or 'May' as she is nicknamed by her friends..

And people always ask me like; why do you watch the ladies singles so much as well?? Because the tactics are sometimes a bit more visual, and I have to coach female players myself.
Besides that, I have witnessed the most thrilling match in ladies singles ever; The Iconic battle between Okuhara and Sindhu with the longest and most exciting rallies ever shown (Glasgow, world championships).
Are we in for the same grueling 110 minutes of high heart rate in front of screen?? I certainly hope so.... You can see contrasts in game-styles and overall the ladies singles are growing as well!
Mens Doubles:
You can preview with much high level expertise, but the mens doubles are obvious very difficult to predict..
It is the fastest, and most skilled badminton you will see in Birmingham.. Power Smashes and spectacular saves in Defense will be exciting again... Last year's finalists Kevin Sanjaya Sukamuljo and Marcus Gideon Fernaldi are seeded first again... They will launch, the best badminton doubles racket; the new Yonex Astrox 88s Pro and the Yonex Atrox 88d Pro.. 

They are Astrox ambassadors since day one.. Will the best attacking head heavy rackets benefit their superior play? But on the opposite way in the bottom of the draw, we have fellow countrymen Ahsan/Setiawan fighting for another big championship..
The Daddies will most likely play the third couple from Indonesia; Alfian/Ardianto (Astrox 88S, Astrox 88D, Aerobite, Aerus Z, Shb-65 Z2)... Do they win? They will enter the semi-finals, Goh V Shem (Arcsaber 11, BG-80, Shb-65 Z2 Black/blue) and Tan Wee Kiong (Astrox 88S, BG-80, 75th Power Cushion 65 Z 2) from Malaysia, will have to battle the champions of All England from last year; Endo (Astrox 100ZZ) and Watanabe!!!
In the upper part of the draw we have the Indian powerhouse; Rankireddy and Shetty... But how is the form now of Kamura and Sonoda?? I can predict that they will be very energetic again.... as their fighting and brave mentality can be felt through the screen with their shouts and activity...
European top pairs from England, from home-soil Langridge and Ellis is a force to be reckoned with... Don't forget Astrup and Rasmussen who showed a very high level of doubles play last week in Basel, Switzerland...

It is necessary, to prepare the rackets with the best strings: Aerobite and Bg-80... Because when the tournament bags appear through the walk to their courts, you can bet all the best equipment will be needed for lots of power play and intensity!!
Last but not least I have to mention 'our doubles' proudly, as the only Dutch pair competing on the holy grounds.. For both is it a wonderful experience again, but for Ties van der Lecq it must be a dream coming true... I have faith in the Dutch Lions as they have a tough match ahead against Thailand in the first round!!
Let's go Holland!
Ladies Doubles:
For many tournaments the Japan Squad is not able to participate, of course because of the Coronavirus which still is holding the entire earth back...
But now the Ladies Doubles - Reigners are back.. First seeded are Fukushima and Hirota, who has a very big fan base all over the world. They have won the title previously, so maybe a back-to-back title this year? Let's see what they have to do to accomplish such a tough task.
In the upper part of the draw we have Indonesians Polii and Rahayu, which are very popular in Asia. Chloe Birch and Lauren Smith are seeded for seventh place, but will face Yuki and Sayaka in the quarters... And I guess the names of Gabi Stoeva and Stefani Stoeva rings a bell?? Yess, they are the Stoevas or Stoeva Sisters and they are ready to fight once again against the supremacy of Asian countries on court.

(Stoeva sisters)
Dutchies Selena Piek and Cheryl Seinen will face the Swedish pair; Nistad and Magnusson... So this is a heads-up to all Dutch fans once again to support more than ever!! The mindset that I teach my students is; every match counts... In terms of getting points for ranking and qualifying but also to give it all that you have At that moment.
Second seeded worlds pair Matsumoto and Nagahara will try to win over Fukushima and Hirota this time.. And my feelings are telling me that the 'revenge is going to be sweet'. Their mentality did get better since last year's defeat.. The Thailand pair Kititharakul and Prajongjai are 'expected' to play semi-finals versus maybe another Japanese pair hahaha....
I am very interested what the European pairs can bring on the table since many couples are attending this year's edition... Probably it will be matches with long rallies, and for many pairs they have to get that match rhythm again....
I am curious who will crown themselves champion in a very interesting draw starting this Wednesday... Bring it on ladies!!!

Mixed Doubles:
Beautiful matches to see if you ask me and somehow I have always loved this discipline.. as it requires a lot of technical skills and tactical insight intelligence... And believe me you will see this in nearly every match... The best 32 pairs in the world will show everybody that they are absolutely worthy of playing in the legendary Arena...
What has the top half to offer?? Praveen Jordan (Thruster F, VBS-68, S82 CX Gold) and Melati Oktavianti (Jetspeed 12, VBS-68) will try to fullfill their destiny; to win another title in the most difficult field of badminton on planet earth..
They will either face Goh Soon Huat and Lai Shevon Jemie, or Rankireddy / Ponnappa from India!! Don't underestimate Chan Peng Soon and Goh Liu Ying, as they can out-perform a lot of world-class players..
To be honest I am very curious about the French pair Thom Gicquel (Nanoflare 700, BG-80, Power Cushion 65 Z 2) and Delphine Delrue; who showed to be ready as they climbed in the top 10 of the BWF ranking..
Let's see if they can adapt the tactics or style of playing this week's tournament, as they work together and gain all the experience!!

(Thom Gicquel)
Another amazing pair on the bottom of the draw, Arisa Higashino and Yuta Watanabe will try to conquer the trophy... Dutchies Robin Tabeling (Jetspeed 12, VBS-68, S82 Blue) and Selena Piek (Astrox 88S, BG-80 string, 75th Power Cushion Aerus Z) had not much luck with the draw, again versus Mathias Christiansen (Arcsaber 11, aerobite, SHB-65 Z 2 Cobalt blue) and Alexandra Boje.... Who showed growth last time I saw their play...
More Europeans in the opening matches, coming from England... Yes of course, Ellis and Smith and a return of the infamous Adcocks married couple.. Very curious about their level of play now... The more I am writing about the predictions, the more I am excited an!! 
I hope you have enjoyed reading this!! 
Of course a review of the tournament will follow after Sunday, a bit extra in depth about technics etc.
Thank you all, and if you have any questions, please contact us:
1) DM on instagram, kwflex_badminton