Login
Log in if you have an account
Dont have an account? Register
Children badminton rackets
The best thing is to start playing badminton as a child, so that you can then "own" all the technique and game insight relatively quickly. This is usually much easier than at a later age, as is the case with most learning processes in life. 
Which badminton racket for children?
The badminton rackets which are suitable for children are mainly robust and have few technologies. Children often play without too much control in the beginning, so a racket can sometimes take a lot of hits. These rackets are more resistant to this. Due to the limited use of technologies, they are reasonably forgiving and children can learn the sport as they should. The beginning badminton player can choose from a limited number of badminton racquets.
For a detailed explanation of children's badminton rackets, read our blog: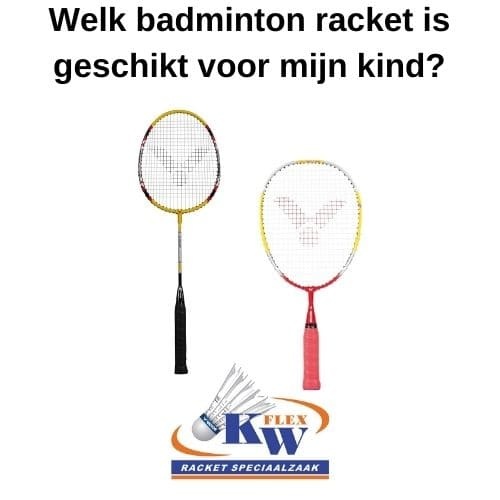 Badminton rackets with a short shaft
The very youngest children should have a lot of fun playing badminton, and they can generally do this better with the short shaft badminton rackets. The shorter shaft makes the racket more maneuverable and the children drag their racket less easily on the ground. So if your child is still very young and not very big, we recommend the rackets with a short shaft!
Beginners badminton rackets
If your child has the intention to practice the sport for a longer time, it is better to spend 10 to 20 Euros more. This will enable your child to use his or her racket for a longer period of time and will not hinder their development. In that case you should already look at the recreational badminton rackets. 
Advanced youth player badminton rackets
Children often develop quickly and can therefore quickly make the next step to a new badminton racquets. For the category competition / advanced youth players, the carbon rackets are very suitable. These rackets are lighter, more maneuverable, more flexible, but also more fragile. It is therefore even more important to use these rackets sparingly.
So if your child has the right technique, ambition and is careful with the rackets, then these rackets are very suitable!
How do I choose the right racket?
If you want to buy a new racket, it is essential to pay attention to several points. These points have to do with your physical condition, technique, ambition and other wishes.
First of all you have to decide if you are strong and if your shoulders/arms are susceptible to injuries. If you are strong, a flexible racket is less necessary, but if you are injury-prone it is a plus. It is important to find a balance.
Then you can look at your technique. By this, we mean whether you can easily hit in the back of the court and control other strokes well. A flexible racket offers more power, but at the same time you have less control over the stroke. Again, select the right balance.
Thirdly, your ambition is important. If you train a lot and make rapid progress, you can easily skip a step.
When you are in doubt, always ask our badminton specialist for advice!
What type of racket should I choose?
Do you have a carbon fiber badminton racket? Then it might be time to orientate yourself for a new racket. For advanced youth players, we recommend the same rackets as for starting recreational badminton players. Therefore, we recommend you to go and look for rackets for the advanced recreational players. If you are a real talent, then it is best to look at the advanced badminton racquets and/or ask our expert for advice.
We are happy to help you!
Order your kids' badminton racket now at KW FLEX Badminton online or visit us in our badminton store in Rijen! Today, ordered before 12.00 noon, is today shipped.