Login
Log in if you have an account
Dont have an account? Register
Badminton racket materials advice
For advanced badminton players, technology and the material makes a big difference. We believe that these details count for 10% in the badminton racket choice. Read here how, what and why!
Do you want to buy badminton rackets? You have done it in no time. Order your racket before noon today and we will send it to you today!
But which badminton racket should you buy? This is much more difficult for some players, unless you have a lot of experience and know what specifications suit your style of play. Even if you know all about it, a racket can still react differently on the court. That is why you can always come to us for a good advice!
If you want to learn more about badminton, we would like to help you with a series of blogs which explain all aspects of badminton rackets. Which factors are important when buying a racket and what should you pay attention to? Our KW FLEX badminton specialist would like to explain the importance of the right materials and technologies below.
How important are the following factors of a racket?
| | |
| --- | --- |
| Grip and grip size | 25% |
| Stringing | 20% |
| Balance point: head heavy ○○ ● ○○ Head light | 15% |
| Weight: i.c.w. Balance point | 15% |
| Flexibility: stiff ○○ ● ○○ Flexible | 15% |
| Frame technology and material | 10% |
| - 'snapback' made of steel |   |
| - 'snapback' made of steel |   |
| - Thickness of blade |   |
| - Thickness of shaft |   |
| - Aerodynamics |   |
| - Maximum stringing force |   |
| Total | 100% |
Material quality and racket technology
For advanced badminton players, technology and the material makes a big difference. We think that this data counts for 10% in the racket choice. It can make the that little difference you need.
Before we dive into the details, we like to explain that all manufacturers focus on 3 target groups:
Players who like speed
All-round badminton players
Attacking badminton players who especially like to smash
The bigger brands offer at least these 3 series.
Below you will find a schedule of various brands and series:
| | | | |
| --- | --- | --- | --- |
| Merk  | Speed serie | Allround serie | Power serie |
| Yonex | | | |
| Victor | | | |
| Carlton |   | | |
| Dunlop |   | | |
| FZ Forza | Light | | |
With the naked eye, you can often tell from the frame which category it belongs to. This can be done by laying down the racket and looking at the frame in detail from a top view. The frame is a good indication, but the shaft is just as important.
In order to avoid making a book of it, we will describe below the 3 types of frames: power, all-round and speed. We also include the technologies of the most current and popular models.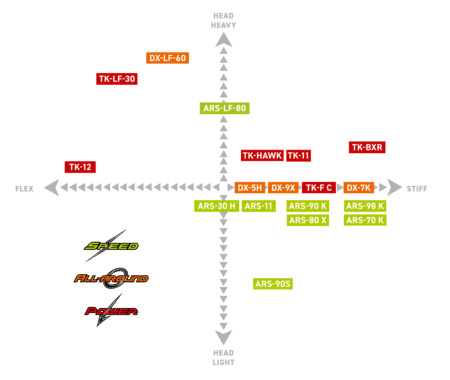 (Victor badminton racket matrix)
Power Badminton racket frames
Characteristics of power frames in general:
From top view, the frame looks flatter and wider.
Advantages of power frames
When hitting a smash, they feel more stable and extra solid. It also offers more shock absorption. It gives an extra sensation when banging smashes.
Disadvantages power frames
They have more air resistance or are less maneuverable.
Yonex astrox
The frame of this series is flat with a rounded finish.
This series is known for its 'steep-angle' attack using counterweight. The weight sense in the top of the frame, the tee (T-joint) and bottom of the grip.
On average, these badminton rackets are head heavy.

Victor Thruster
This series is known for its box frame. Visually obvious from the lower half of the frame. It looks flat and angular, provides maximum stability and shock absorption.
Some newer models have moved away from this and by adding new materials such as durable fiberglass in the frame. It offers that more elasticity and comfort.

Allround Badminton racket frames
Allround frames have a mix of different technologies from the 'speed' and 'power' series. It is for the large target group that wants to play on both power and speed.
Characteristics of all-round frames in general:
A mix of regularly multiple technologies in one frame that is optically visible. For example, the top half has the sharp edge of the speed technology and the bottom half is a partially flat wider frame.
Depending on brand and series rounder in shape
Less flat/wide than a power frame
Advantages all-round frame:
It has the advantages and disadvantages of both a power and speed frame.
There are variations with technologies for something more towards power or just something more towards speed.
Disadvantages all-round frame:
It's not the very best for maximum power or speed
Yonex Duora series:
Special features of these badminton rackets:
A front with a flat side for the 'forehand'. This offers more stability and power.
And a back 'for the 'backhand'. This side has a sharp edge for less drag and maneuverability.
Unlike a conventional all-round racket, this series offers the best of 2 worlds. At the beginning you have to be careful which side you hold.

Victor Hypernano
These rackets are part of a powerful all-round series and have the following characteristics:
It has a sharp to almost round frame. The frame is not flat like a Power frame, but also not as thin as a Speed frame.
Certain models also have Aerosword technology in the upper half. This is a frame with a sharper edge for the speed series.
By making the frame thicker in certain parts it also absorbs shocks very well.

Victor DriveX
The most popular all-round series from Victor at the moment:
The frame has a rounded finish for most models
Certain models are thicker for more shock absorption and stability. Victor Drive 9X is widely used in the world top.

Carlton Kinesis
Thin frame at position 12 and 6 (for speed).
Thicker frame at position 9 and 3 o'clock (for power)
A twist in frame for more aerodynamics at positions 2, 4, 6 and 8 o'clock (for speed).

Dunlop Nanoblade Savage Woven Special
Belongs to both the all-round and speed frames
The top half of the frame is focused for more aerodynamics
The bottom of the frame is thicker, but it's not as flat as the popular power frames.

FZ Forza Precision
Is an all-around - power frame:
The top half of the frame has a sharper edge for more Aerodynamics
The bottom of the frame is thicker,
The thickness of the frame is almost as thick as a power frame

Speed Badminton racket frames
Speed frames are typically with a sharp edge or they are thin from top view when the racquet is on the table. This allows for maximum aerodynamics.
Advantages of speed frames:
They give higher acceleration in a fast stroke. Very useful for defense, 'counter-attacks' or feints where last minute acceleration is crucial.
Disadvantages speed frames:
It is not suitable for a long game based on power.
Victor Brave Sword
This series is not the most recent model, but it is a fundamental series for Victor. On the top models, the frame has a razor-sharp edge that provides noticeable aerodynamics. The difference was very noticeable. The sound was also distinctly different.

Victor Auraspeed
After the Victor Brave Sword series, first the jetspeed series came out and then this Auraspeed. The edge of the frame was made less sharp and stronger so that it is better suited for top players who want more stability and control. Well known models are the Victor Auraspeed 90K and Auraspeed 100 K.

Yonex Nanoflare
In most nanoflare models, the frames are wafer-thin, seen from top view when laid flat on the ground. This allows for much more speed due to less drag.
From the side view of the frame, the material there is thicker because otherwise it is not sturdy enough.

Other
Victor Light fighter, Forza Light series and several series also belong to the speed series, but are usually head heavy. The speed is gained by the low weight.

Frame shape (racket blade)
The shape of the racket blade has an impact on the maximum hitting area or 'sweet spot'. It also says something about the aerodynamics and maneuverability of a racquet.
Relative to other racquet sports such as tennis and squash, the differences in badminton are not as great and varied. Racquets in an oval shape used to be popular. The racket blade is smaller, has a smaller hitting area, but provides more speed.
In that generation, the rackets were heavier and stiffer. The differences are smaller nowadays, but still present for the development of rackets for specific target groups.
Influence of racket blade on the hitting surface
A racket blade in advanced badminton rackets is isometric 99% of the time. The top of the frame is quite flat so the middle 8 strings are almost the same length. This area is therefore the maximum sweet spot. Some models are the same width on the middle 6 strings. The sweetspot is smaller in exchange for better aerodynamics.

Influence of racket blade on stringing.
The racket blade can also be half a cm longer, wider or narrower. A small racket blade not only gives better aerodynamics but also a harder stringing. The strings are shorter and for the same amount of kilos of tension the stringing will feel harder.
Thickness of shaft
In general, a thicker shaft is stiffer than a thinner shaft. However, nowadays it is no longer the exception that a thin shaft is stiffer than a thick shaft. This is due to the technology and material used. Thin shafts with a stiff shaft and good resilience usually have a higher price tag because of this.
Another function of a thin shaft is that it has less air resistance. So it helps for better maneuverability.
The thickness of a shaft can also be thinner or thicker in certain places. Often it is at about 5 cm below the T-joint that the shaft is made thinner.
On the other hand, a thicker shaft can provide more space for material that can offer more shock absorption.
Maximum stringing power, marketing and brand
In the past, badminton rackets with high maximum stringing strength were more expensive. Nowadays, this is no longer an indicator between a premium or mid-range racket. Sometimes this is also used as marketing.
Yonex mentions a lower maximum stringing force. Having it strung above that recommendation means own risk if it breaks. However, Yonex is known to have frames that are much sturdier than their recommended stringing strength.
In some cheaper mid-range models, the frame is not as sturdy as claimed by the manufacturer. Usually this is not a problem, because an advanced player who needs 13 kilos + does not choose a racket of about 60 euros.

Price and durability
Top of the line models with a high price are not more durable. They are made to provide maximum performance. It must be able to withstand a 13+ kilo stringing. The material must be extra thin for better aerodynamics. In that limited space of the shaft and frame, innovative technologies are applied for more comfort, resilience and stability in both shaft and frame.
A good racket for an advanced player does not have to be expensive. In the price range 60 - 125 Euros you will find excellent rackets. The premium rackets are usually for sale from 125 Euros.
Badminton racket advice
If you buy a racket online, make sure you are well informed and get enough advice. Would you like to get additional information from our badminton expert? No problem at all! Our badminton specialist is always available for advice online, by phone/whatsapp +31-616 501 686 or in our badminton store in Rijen! He will help you with the purchase of the right badminton rackets.