Login
Log in if you have an account
Dont have an account? Register
Badminton grip advice
Did you know that a badminton grip is responsible for 30% for the playability and quality of the badminton racket? Too many badminton players wait too long to replace their overgrip or base grip.
Badminton grips and grip size
A good grip is one of the most important parts of a badminton racket. The best known are Yonex badminton grips and Victor badminton grips.
Of course, when buying a racket there is always a grip on the handle and you can immediately start playing badminton if you want. Nevertheless, when purchasing a new badminton racket, we always recommend having a professional grip on it. It is the cheapest part to buy, but also the most important part. Spend some extra money and you will certainly notice the difference compared to a factory grip. At KW FLEX you can choose from Yonex grips, Victor grips and Carlton grips.
If you are going to immerse yourself in the matter, we would like to help you with a series of blogs that explain all sides of badminton rackets. What factors influence the purchase of a racket, and where should you pay attention? Our KW FLEX badminton specialist is happy to explain the importance of grips.
How important are the following factors of a racket:
| | |
| --- | --- |
| Grip and grip size | 25% |
| Stringing | 20% |
| Balance point: head heavy ○○ ● ○○ Head light | 15% |
| Weight: i.c.w. Balance point | 15% |
| Flexibility: stiff ○○ ● ○○ Flexible | 15% |
| Frame technology and material | 10% |
| - 'snapback' made of steel |   |
| - 'snapback' made of steel |   |
| - Thickness of blade |   |
| - Thickness of shaft |   |
| - Aerodynamics |   |
| - Maximum stringing force |   |
| Total | 100% |
But why is a badminton grip so important? We explain this in detail in this blog. Do you have any questions or would you like more information about this story? Send our badminton specialist a message via: Facebook, Instagram, [email protected] or call/whatsapp+31616501686.

What is the most important of a racket grip?
Racket grips can be divided into two important parts, namely grip thickness and grip material. Both are super important to help you hit the best and most powerful shots on the track in the sports hall!
Grip thickness:
Most beginners use thicker grips more often, often with overlaps / ridges so that the fingers fit in the space inbetween. Which grips are most suitable for you is of course very personal and that is why it is very nice that this can be adjusted exactly to your wishes. Still, we can make a connection between which players choose a certain type of grip thickness / material and so we can advise almost all badminton players the right grips that suit their playing style.
What are the benefits of a thicker grip?
Better hold and grip strength
Better shock absorption
Good for the powerful forehand strokes
Can prevent tennis elbow / golf arm
For people who cannot make a fist due to injury or osteoarthritis
Often preferred by beginners / recreationists
What are the disadvantages of a thicker grip?
The 8 corners of the handle are less noticeable and therefore less feeling with the racket
Little control on technical strokes and certain arm positions
Change slowly with grip posture, such as from forehand to backhand
Diversion are more difficult to perform
Why would you choose thinner racket grips?
Much more control over the badminton racket
Rapid changes in grip positions
Perform diversions quickly and well
No injury prone arms or joints
A lot of feeling with the racket
What grip thicknesses are there?
Nowadays the grip sizes on the market are often G4 (8.6 cm) and G5 (8.3 cm). Around the years 2005 and before, G3 (9.0) was the most common grip thickness.
Professionals often use grip thicknesses of 8.0 - 8.6 cm in circumference and at lower levels 9.0 - 10.5 cm. It remains a personal preference that you have to experience and fine tune yourself.
The most commonly used grip sizes are:
| | |
| --- | --- |
| Grip size | circumference |
| G4 | 8,6 cm |
| G5 | 8,3 cm |
| G7 | 7,7 cm |

What ways can you use to grip your handle?
Basically there are two types of grips, with which we at KW FLEX can accurately determine the thickness of your badminton handle up to 0.1 cm.
Overgrips make the handle about 0.4 - 0.6 cm thicker in circumference.
Can be applied directly to a bare handle as well as over a factory grip. This grip offers optimal grip and because it can be applied thinner on the handle, more can be 'played' with the thickness. For example, with a Victor Cushion Wrap under the overgrip, you can vary the thickness even more precisely. The overgrips wear out faster and need to be replaced more often.
Basic grip make the handle about 1cm thicker in circumference.
Has self-adhesive tape on the back of the grip, is applied directly to a bare handle and absorbs many vibrations. For example, with a Victor Cushion Wrap under the base grip you can vary the thickness even more precisely. This grip is more durable than an overgrip.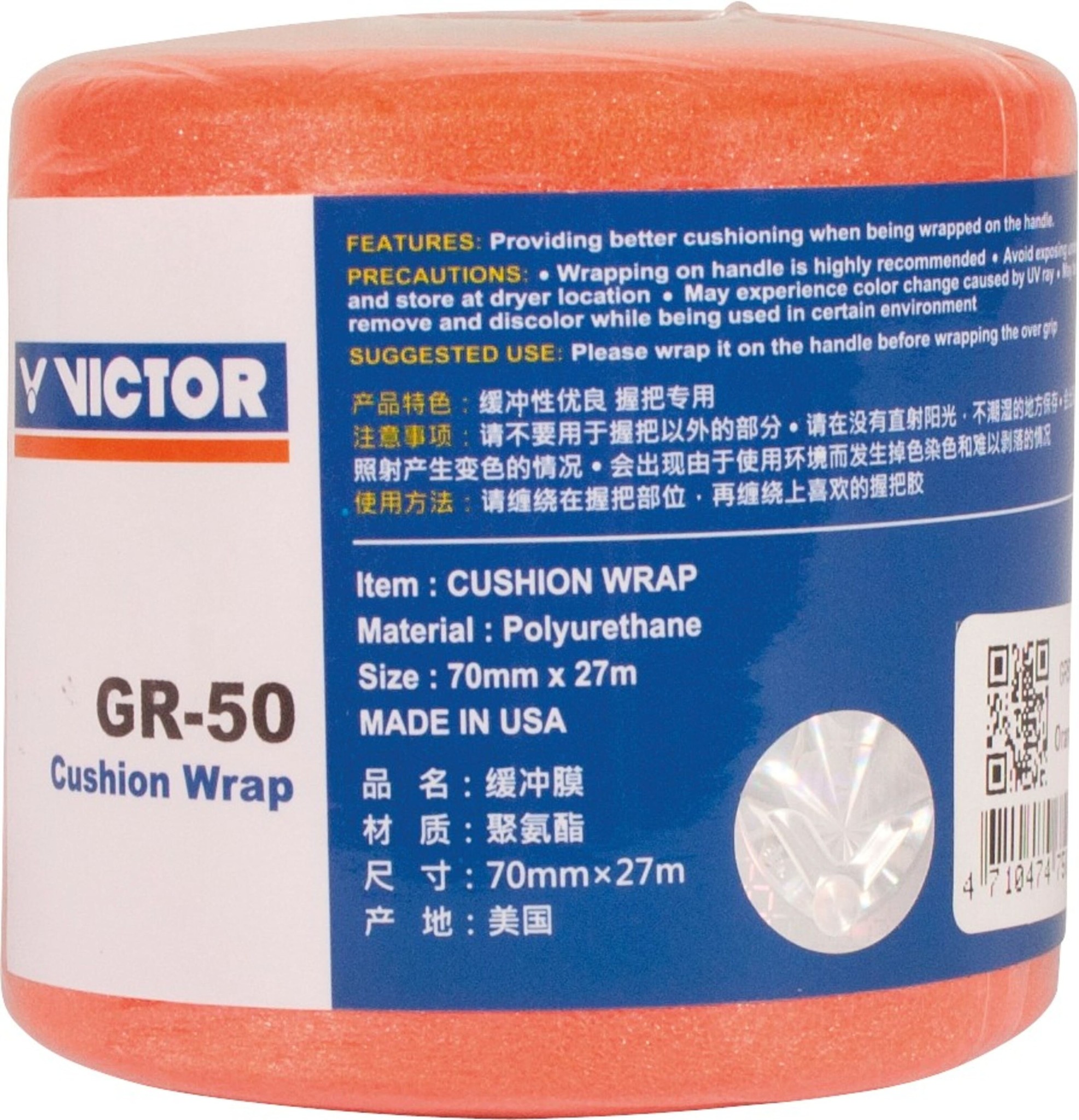 The purpose of applying a racket grip is that it is done accurately to the millimeter. The difference in circumference of 3mm is so big that a recreational player can also disapprove the grip, because the racket does not play well and can cause complaints to hands or joints.
Accurate grip depends on a number of factors:
A grip has a certain thickness and stretchability. Choosing the right material and using the correct force dosage when wrapping the grip gives the desired result.
The degree of overlap. Overgrips can be overlapped 2-3 mm, but also exactly half the width, making the handle thinner or thicker.
How do I apply badminton grips?
Watch in these Youtube videos how to apply the grips in different ways!
2 min. Overgrips 2-3 mm overlap.
2 min. Overgrips 2-3 mm overlap + by taping up to the shaft
2 min Overgrips half and half overlap.
2 min. Basic grip flat taping + by taping up to the stem
2 min. Basic grip with 50/50 overlap.
How often should a badminton racket grip be replaced?
If you start from the most important qualities of a grip and want to feel them during a badminton game, an overgrip will last for approx. 3 weeks with approx. The best advantages of the overgrip are then lost. Badminton players unfortunately often postpone this to 6 months, so that the fine qualities of an overgrip are no longer noticeable.
A basic badminton grip often lasts twice as long and will therefore have to be replaced after approx. 6 weeks if you use badminton games twice a week. Some players even postpone the replacement of the basic grip for up to 1 year.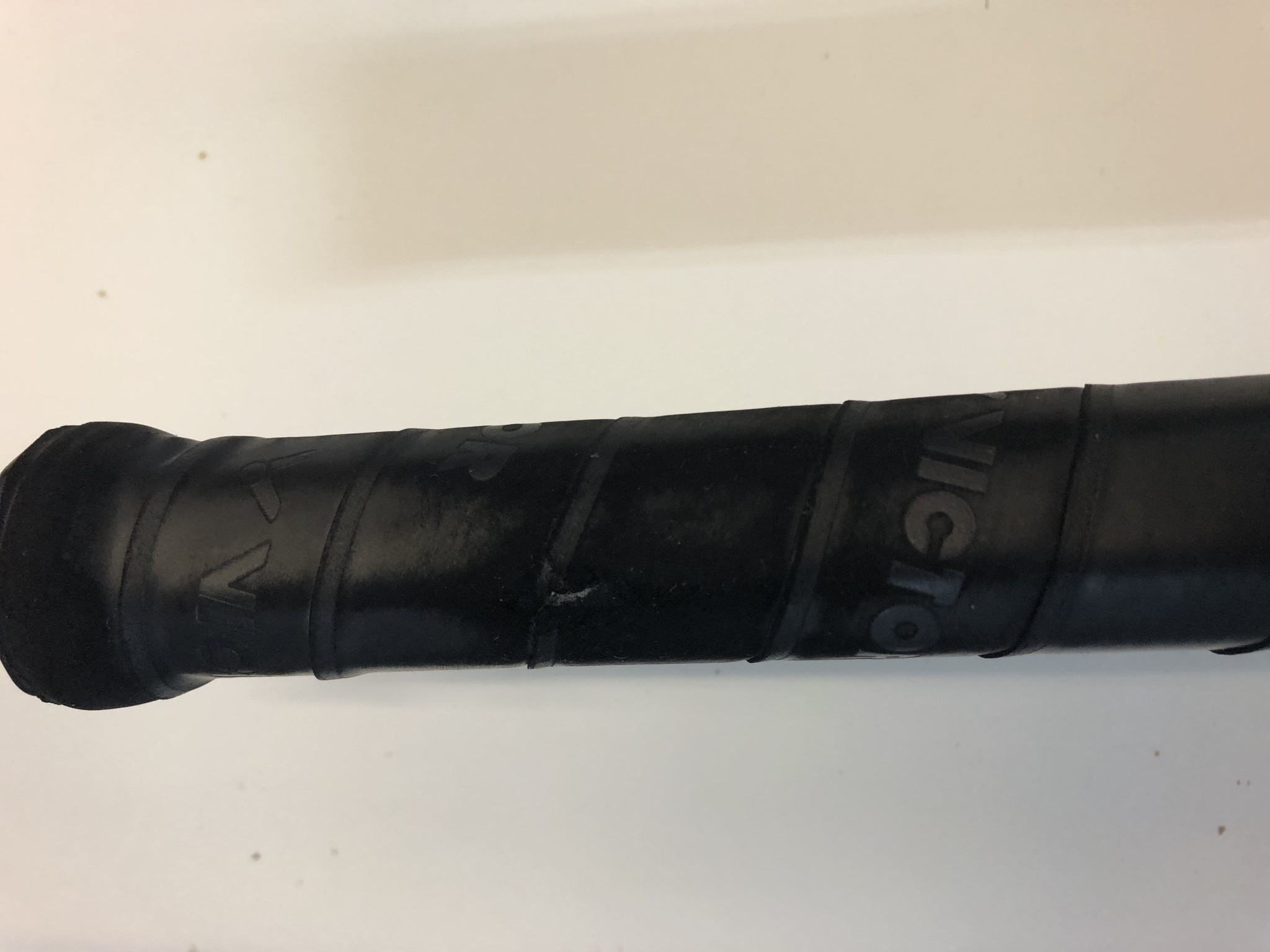 What is the influence of dyes on grips?
Did you know that the color of your racket grip can influence the quality and feel of those grips? The color white often feels softer and stiffer, because it contains fewer dyes. That is why some players always choose white or gray racket grips.
This story is especially well known in the tennis world and is passed on to each other. There are of course exceptions, but it is best to contact our badminton specialist! There are also grips in the range where this rule does not apply correctly.
In any case, it is good to know that the feel of a grip can be different, because the color is different. A white grip from the same box may feel different from a yellow or black grip.

What types of materials are there for grips?
Are you familiar with all types of materials that badminton grips can be made of? Broadly speaking, there is a choice of 2 types, namely synthetic and terry fabric.
Synthetic
This material is the most popular and used by most players. With this material you have the choice between 'tacky grips' and 'soft grips'. The tacky grips are stiffer and stickier and therefore offer extra 'grip' on the racket. The soft grips are made of a softer material and offer more comfort when holding the racket.
Terry fabric
Terry fabric is the same material as a towel and feels completely different from a synthetic grip. With dry hands it feels fairly slippery, but the moment you start to perspire, the grip will become 'more moist' and the terry grip really comes into its own. Sometimes it is combined with using an adhesive spray or Magnesium powder. With adhesive spray it immediately feels stiffer. Magnesium powder is used correctly when the grip becomes too moist.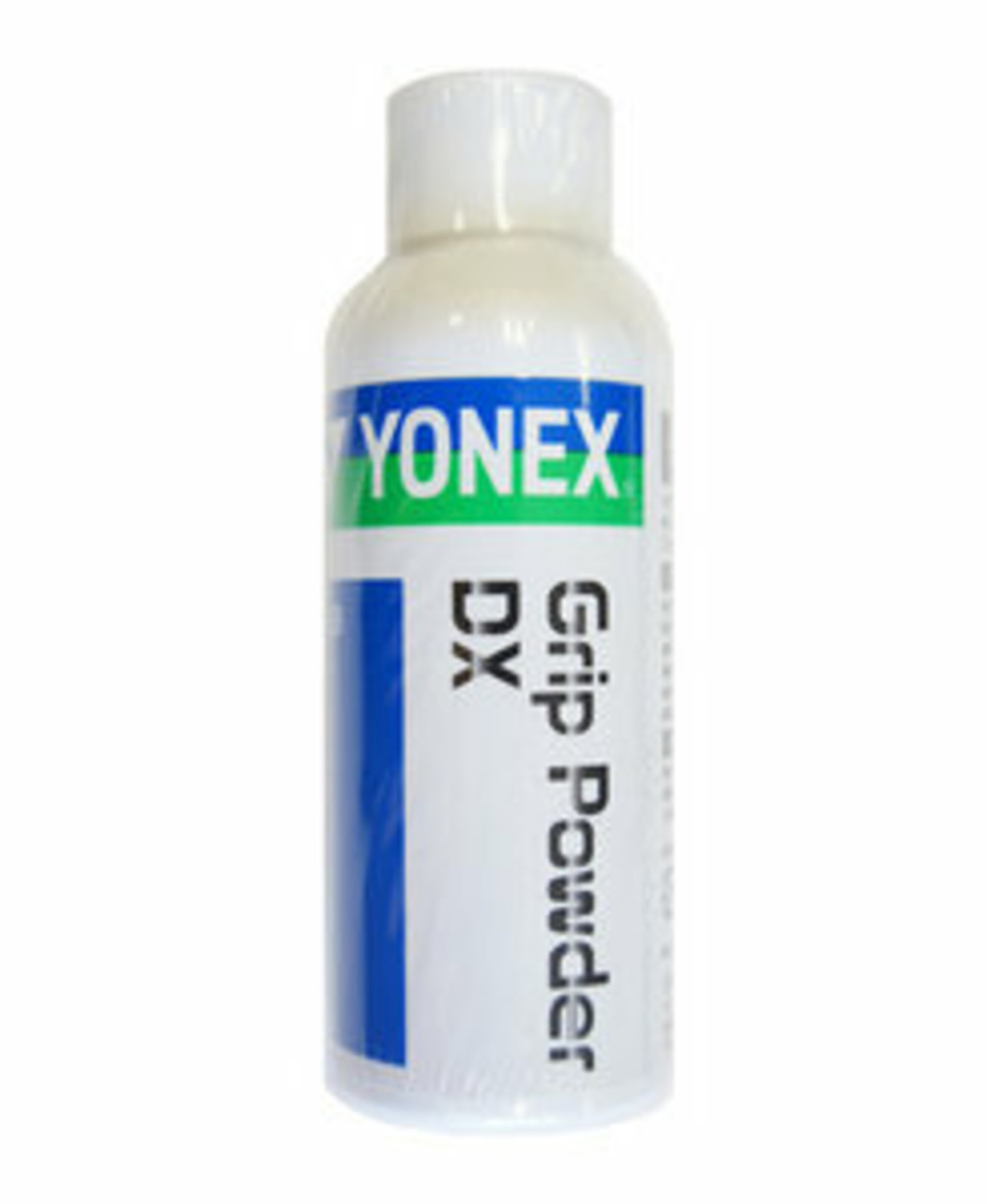 Advantage of terry grips (approx. + 1.2cm thicker):
Absorbs the most moisture. For enormous sweat perspiration. If it is too wet, Magnesium powder is often used.
For players who have allergies to rubber in the synthetic material
Very smooth at the beginning. It only plays well when the grip gets a little wet from sweat. An adhesive spray can also be used for this.
The fabric may harden after a few weeks. At the beginning of each session it must first soften again by means of of water or sweat, before it feels pleasant.
Must be replaced more often.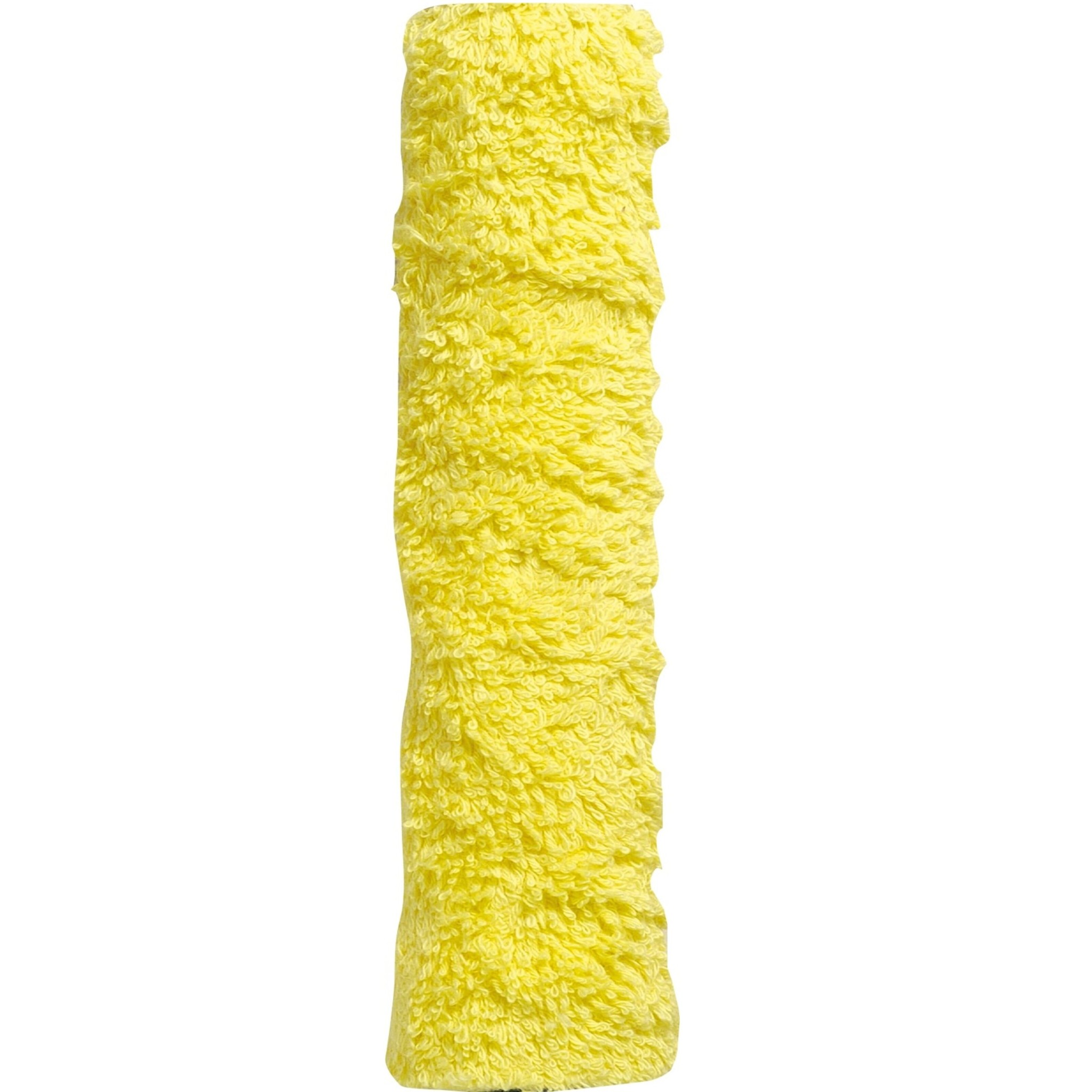 Example: Victor Frotteegrip
Advantage of synthetic "tacky grips"
Much more sticky
Immediately a lot of grip and higher acceleration of stroke speed.
Disadvantage of synthetic "tacky grips"
Not suitable for hands that are allergic to rubber.
Turns less quickly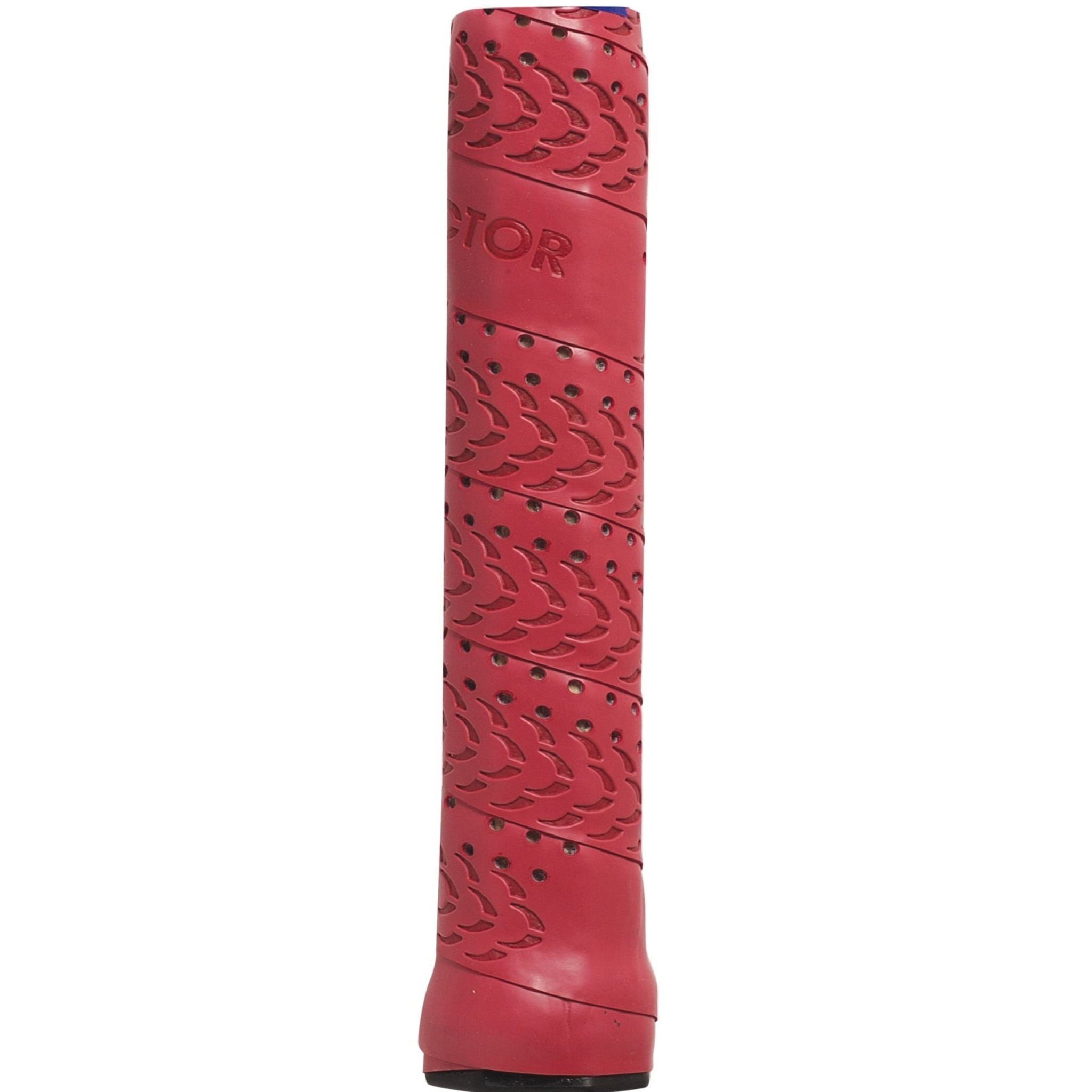 Examples:
Victor Fishbone grip (approx. + 1cm thicker), Yonex Hi Soft Grip AC420EX (approx. + 1cm thicker), Victor Hypergrip (approx. + 0.8cm thicker)
Advantage soft grips
Feel wonderfully soft
Doesn't stick
Rapid change of handle position
Downside softgrips
Not suitable for hands that are allergic to rubber.
Absorb less moisture
Wear out faster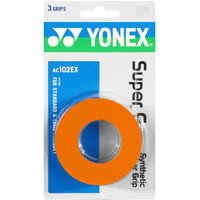 Examples: Yonex Super Grap AC102ex grips (approx. 0.4 cm), Victor Softgrip (approx. 0.4 cm)
Grips and hygiene:
Did you know that racket grips can be really dirty, even though you don't see it yourself? Most badminton players do not wash their hands before playing. As a result, dirt, grease, cream, perfume, sweat, dead skin cells and bacteria remain on the grip during badminton. Think about this: You're playing badminton 1 or 2 times a week for at least 1 hour at a time.
Can you tell that the majority of players do not replace their grip for 1 year or more .. This is of course not very fresh and certainly not favorable for the quality and durability. In comparison, a 1 year old grip is like a towel that won't be washed for years.
That is why we advise you to replace your grip at least once a month if you play twice a week and also wash your hands before you start playing badminton.
Ps. Black grips also get dirty, only you see it less well ..
We still regularly come across grips that are worn down to the wood or come off as a powder due to age.
| | | |
| --- | --- | --- |
| | | |
| (Broken badminton grip) | (old vs new grip) | (old vs new grip) |
How much do badminton grips cost?
With an almost weekly replacement it is cheaper to use overgrips. Have the thickness adjusted under the overgrip once and then only use overgrips that you apply thinly. A box of professional overgrips costs approximately € 1.50 each. On an annual basis we have come a long way with 25 euros and then you play with a fresh overgrip every month.
What kind of badminton grips are good for me?
The big question you are now asking yourself is: Which racket grip is most suitable for me? It is a very difficult question to be able to answer it easily and clearly. This is very personal and it depends very much on your level, playing style and wishes. The sticky grips are suitable for both beginners to advanced competition players. Professionals more often choose non-sticky grips because they want to be able to turn their handle quickly and frequently.
In short, replace your grip regularly to enjoy the benefits and not let your badminton game suffer. All grips have to be replaced regularly. If you buy a new racket from us in the store or in the webshop and order a new grip, we will of course put it on for free. You can choose from Yonex grips, Victor grips and Carlton grips.
If you visit the store or at a tournament at our stand, we of course will do that too. No problem!
Do you still have questions or do you want more information about this story? Send our badminton specialist a message via: Facebook, Instagram, [email protected] or call/whatsapp +31616501686.