Login
Log in if you have an account
Dont have an account? Register
Badminton Tournament report: Swiss Open 2021
09 Mar 2021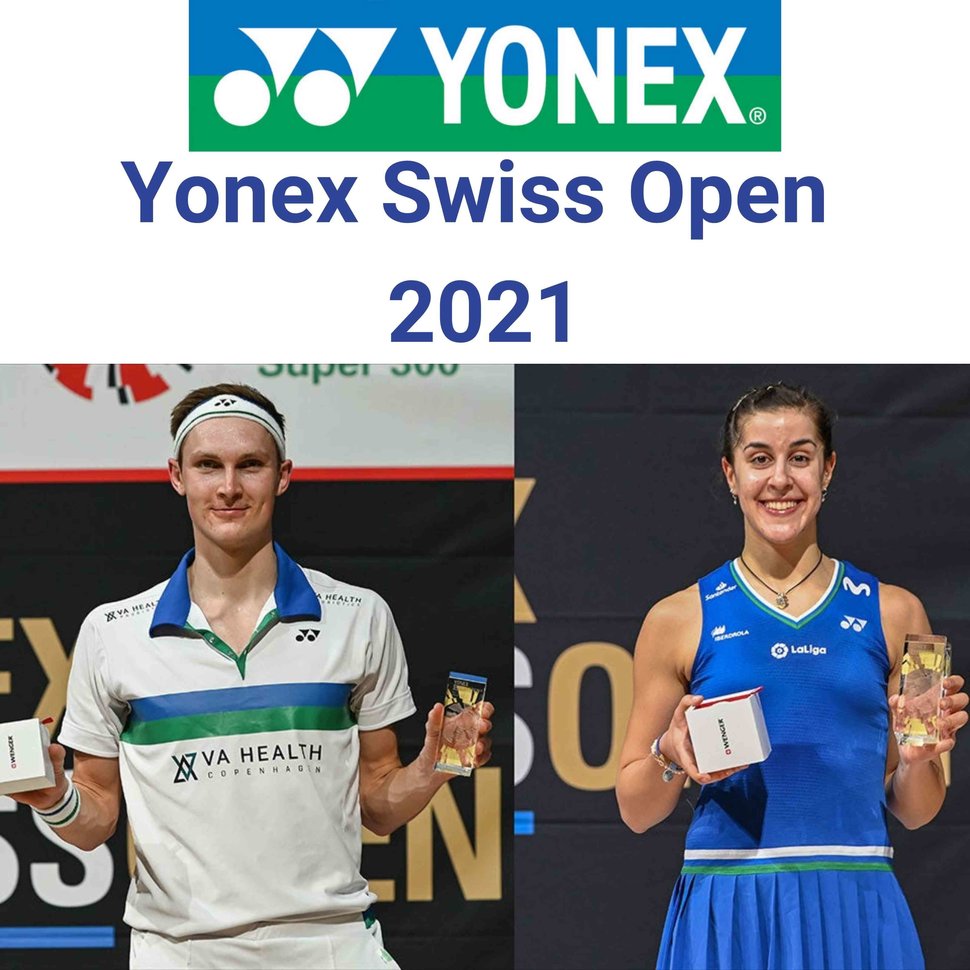 Hi badminton lovers,
It's time for another KwFlex Tournament Report. In this third edition I am glad to give you a recap of this weekend, the Yonex Swiss Open came to an end… Like I always say; every tournament has it unique memories and special moments. It is a 'story' actually, where in our beautiful sport, always has something special in terms of happenings etc. Let's inform you the winners in the Jakobshalle, in Basel Switzerland
Tournament: Yonex Swiss Open 2021
Status: HSBC BWF World Tour Super 300
Date: 2-7 March 2021
Mens singles:
There is a tall Dane in the circuit, who is progressing himself each and everytime.. For this tournament he had barely had any issues with his opponents.. I am talking about Viktor Axelsen (Yonex Astrox 100 ZZ, BG-80, 75th Power Cushion 65 Z 2) 'storming' over his opponents… He got into the finals to play against a three time world junior champion u19; Kunlavut Vitidsarn (Yonex Nanoflare 800, Power Cushion 65 Z 2).
Remember this name because for sure we will hear/see more of him in the future. It wouldn't surprise me if he brings out his tournament bag more often to the finals of future tournaments.. Vitidsarn gained experience and can be satisfied by playing really well this week…
Viktor won with these scores; 21-16, 21-6.

Woman singles:
Just like Viktor we had the same winner of ladies singles again, just like the Thailand Tours… Maybe a bit boring for having the same winner but… can a match of 'Caro' be boring ?? Every single match Carolina Marin (Yonex Nanoflare 700, Aerobite Boost, 75th Power Cushion Aerus Z Women) was overpowering except one!!
In the Semi-Finals, Marin had to fight her way through a superb playing Pornpawee Chochuwong from Thailand… In a thriller 3-set match, the player from Huelva took the victory and secured the finals of the Swiss Open..
On the other side of the draw, it was Pusarla Sindhu who claimed the chance of playing for the number 1 spot on the podium… Unfortunate, Sindhu never got a hold on the furious attacks of the Spanish shuttler; also the speed of Carolina was simply not to control… We all know Marin, she just keeps on attacking until she can't hold the trophy as the best ladies singles player of the tournament…
Scores were 21-12, 21-5 in favor of Carolina Marin.
Mens Doubles:
As we proceed to the most fascinating match on paper; the mens doubles lightning fast exchanging hits, from the most explosive players of the tournament!! The Danes Kim Astrup and Anders Rasmussen played in the same mode as the semi-finals; brilliant!!! Both players are now in sponsorship with Li-Ning, and the winning celebration was just as funny as usual!! You can watch in back on YouTube… Especially Rasmussen is always very funny with celebrating a sensational victory!
The Germans Mark Lamfuss (Yonex Astrox 88S white/red, aerobite, Power Cushion 65 Z 2) and Marvin Seidel (Astrox 88D red/black, BG-80, Power Cushion 65 Z 2) had no answers for the supreme playing Astrup/Rasmussen..
The Danes won the last match with 21-16, 21-11.
Ladies Doubles:
A European ladies pair went through the tournament until the last counter with a pair from Malaysia..
'The Stoevas' are two sisters known for their physical play, Stefani Stoeva (Yonex Astrox 77, BG-80, SHB Eclipsion Z 2 blue) and Gabi Stoeva (Duora 7, BG-80, SHB Eclipsion Z 2 blue) fought in the final but could not find their rhythm. The popular sisters lost to Pearly Tan (Victor Jetspeed S11, VBS-63, Victor P-9500 F Briljant Blue) and Thinah Muralitharan (Victor Thruster Claw white, VBS-66, Victor A900 F) who as unseeded won the tournament on a beautiful Sunday!!
The First set was quite close, but in the second game it became hard for the sisters residing from Bulgaria… On to the next one and I must say maybe we will see the Malaysia pair also shine on courts in Birmingham…
Tan and Muralitharan won convinced in straight games… 21-19, 21-12
Mixed Doubles:
Save the best for last… As the tactics' element in mixed doubles always bring lots of excitement… So was the first match to play on court one… Upcoming talents on senior stage Thom Gicquel (Yonex Nanoflare 800, BG-80, Power Cushion 65 Z 2) and Delphine Delrue deserved a spot in the finals with nothing but great matches throughout the week..
Another European pair were standing on the other side of the court; Mathias Christiansen (Arcsaber 11, aerobite, SHB-65 Z 2 Cobalt blue) and Alexandra Boje.. Especially Boje has shown growth in the game, Christiansen too… It was a bit up and down, tactics was changing constantly…
But in the end the persistency of the Frenchies were deciding as they won in two games with 21-19, 21-19.. Very close match after all, those scores simply showed how intense the match was.
Conclusion:
I have enjoyed watching badminton again… It is cool to see that in that same stadium I was a spectator, during the world championships… From the 16 persons in total, 12 are sponsored by Yonex!!
Most of the players came from Europe, except Sindhu, and Tan/Muralitharan… So what a great achievement for all European badminton players again… I am very curious next week, because this was actually the 'warm up' tournament… All England is just around the corner; I will definitely watch a lot of games!
Thanks for reading, I certainly hope you enjoyed it…
Follow us on Instagram: kwflex_badminton and badminton_supreme!!