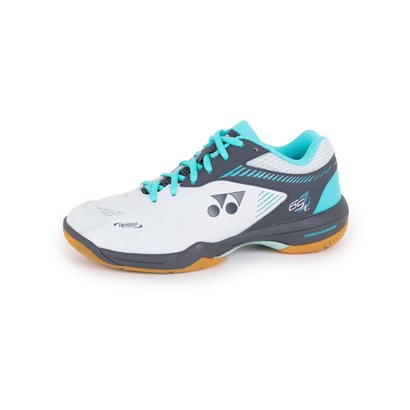 Yonex SHB 65Z 2 Lady Ice Grey
5031024
Availability:

In stock

Delivery time:

1-2 workingdays
The very latest shoe model within the Yonex family is the SHB 65Z 2 lady Coral Orange. It is an ultra light and yet stable shoe that, thanks to the sturdy heel and carbon plate at the bottom of the sole, is suitable for players who want strength and yet w ...
More information
Product description
Brand:

Yonex

Article number:

5031024

Availability:

In stock

Delivery time:

1-2 workingdays
The Yonex SHB 65Z 2 Lady Ice Gray is an absolute top model and in this case comes in the color combination white with gray. This badminton shoe has a super fit especially for the ladies! The shoe is super light and also stable and due to the reinforced heel and carbon plate at the bottom of the sole, it is also suitable for players looking for strength. Fortunately, the SHB 65Z 2 lady ice gray still remains easy to maneuver on the badminton court.
The 3-layer Power Cushion provides stable cushioning at the impact of the landing and immediately converts this into a fast continuation. The Yonex SHB 65Z has a new Power Cushion + in the heel
This material is lighter, gives 25% more cushioning compared to normal Power Cushion and immediately returns the resilience to make the next action faster.
The fit is improved by a Syncro Fit insole and the Toe-Assist. The Syncro fit provides a better and more stable insole.
The Lateral Shell on the outside of the upper adds extra strength to the lateral movement.
Specifications
Color:

Ice Grey

Gender:

Lady

Sports:

Badminton, Squash, Indoor sports

Technologys:

Power cushion

Type of foot:

Regular foot

Damping:

Limited ○○○○● Maximum

Stability:

Limited ○○○●○ Maximum

Flexibility:

Stiff ○○○●○ Flexible

Comfort:

Limited ○○○○● Maximum