Login
Log in if you have an account
Dont have an account? Register
Extra flexible
Comfort - more power - less strong arm
Buy extra flexible badminton racquet
Are you looking for an extra flexible racket that will help you a lot in generating power and gives fewer injuries on your arm? Then you are at the right place at badminton shop KWFLEX.nl!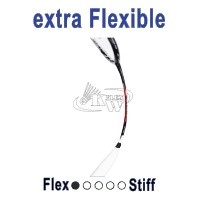 The big advantage of super flexible badminton rackets is the amount of power you can develop. You hit the shuttle harder, without any effort, if you are not that strong yourself or if you have an injured arm.
So you don't have to work as hard and this will work 'energy-saving', allowing you to focus on other parts of the game.
The disadvantage is that an extra flexible racket has less control. You will therefore have to accept that you can place the shuttles a little less precisely than with a stiffer badminton racket.
Badminton racket advice
If you buy an extra flexible badminton racket online, make sure that you read up properly and / or receive sufficient advice when purchasing. Of course, this does not only apply to this type of racquets, but to all different types. Make sure you contact our KW FLEX badminton expert if you have any doubts when ordering.
Would you like extra information from our badminton expert? No problem! Our badminton specialist is always available online, by phone/WhatsApp +31-616 501 686 or in our badminton shop in Rijen to ask for advice! He will help you buy the right badminton rackets.