Login
Log in if you have an account
Dont have an account? Register
About KW FLEX Racket store
KW FLEX badminton specialty store was founded on February 2007 by Kwok-Wai during his student days. First he helped everyone from home, at tournaments and club nights, this was then expanded with an online badminton shop and a separate shop in Rijen.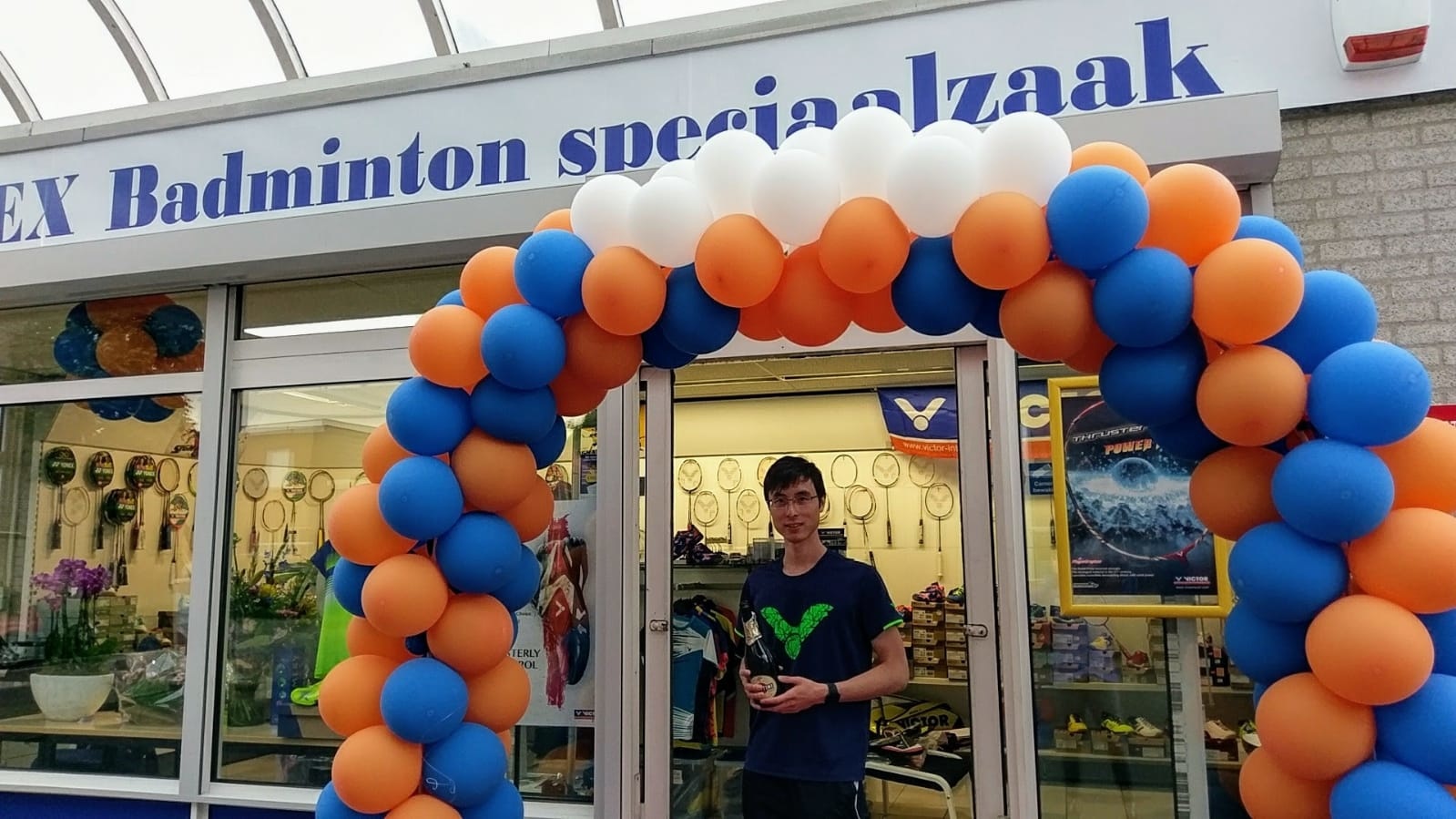 (Kwok-Wai at the opening of the badminton shop)
The goal was always to help every badminton player, and over the years we have grown into a total supplier of all badminton products that you need for professional or recreational badminton. The wide range of badminton rackets, badminton shoes, shuttles, sportswear, grips, bags and so on are for sale for every type of player at a competitive price in our online badminton webshop or in our physical badminton shop in Rijen.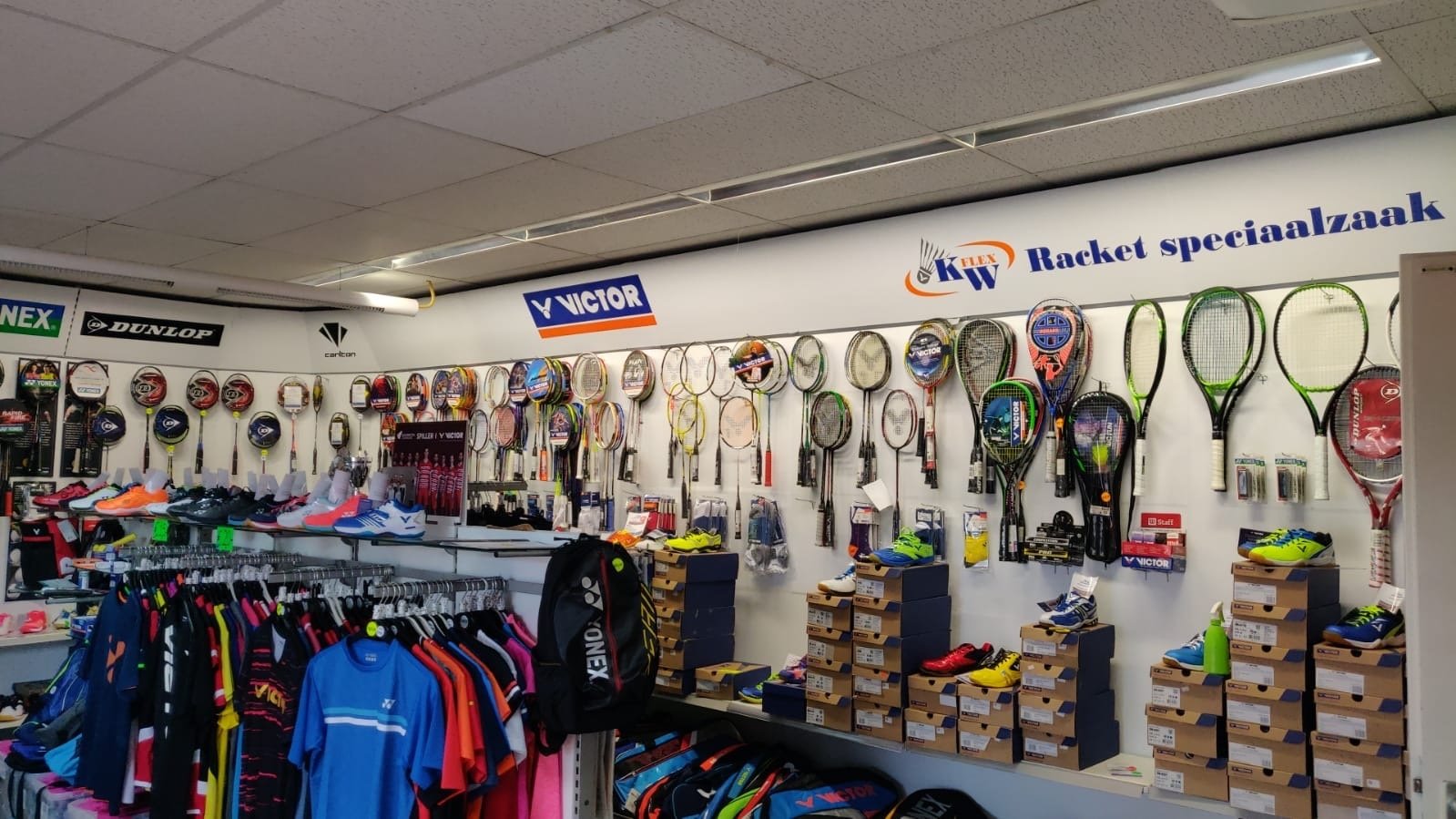 (Badminton shop KW FLEX inside)
Quality & Badminton
In addition to the highest quality in terms of products, KW FLEX as a badminton specialist also offers tailor-made service at the most competitive prices. We only offer products from brands that can guarantee the highest quality and also continue to innovate with their articles. In recent years, we have been able to add more and more new suppliers to our range to meet your badminton needs.
Our range includes the following brands:
Badminton rackets: Victor, Yonex, Carlton, Dunlop and FZ Forza
Badminton shoes: Victor, Yonex and FZ Forza
Badminton shuttles: Victor, Yonex, Dunlop and FZ Forza
Badminton clothing: Victor, Yonex, FZ Forza, Erima and JAKO
Badminton bags: Victor, Yonex, Carlton, Dunlop, FZ Forza
Health & Training: Doubdle O7, Hyperice and F.I.T. Sports balm
Expanded with Squash, Padel and Tennis
Since a few years we have expanded our assortment with squash, padel and tennis products. This way we grow from badminton specialist to complete racket specialist and our assortment becomes more and more complete.
You can now find a complete range of products for squash, such as rackets, bags, shoes, clothing and balls. The padel assortment continues to grow with padel rackets, bags and balls. Tennis players have more and more choices of different tennis rackets, bags, clothing and balls.
Visiting your badminton club?
Of course, we still do what we started in 2007. If there is interest in you and / or your club (Breda / Tilburg region), KW FLEX can visit your club with its products, after which you can test and experience the products extensively. The big advantage of this is that you can test the product for quality, and you can also determine whether the product is suitable for you, because not every player is the same and therefore benefits from the same products.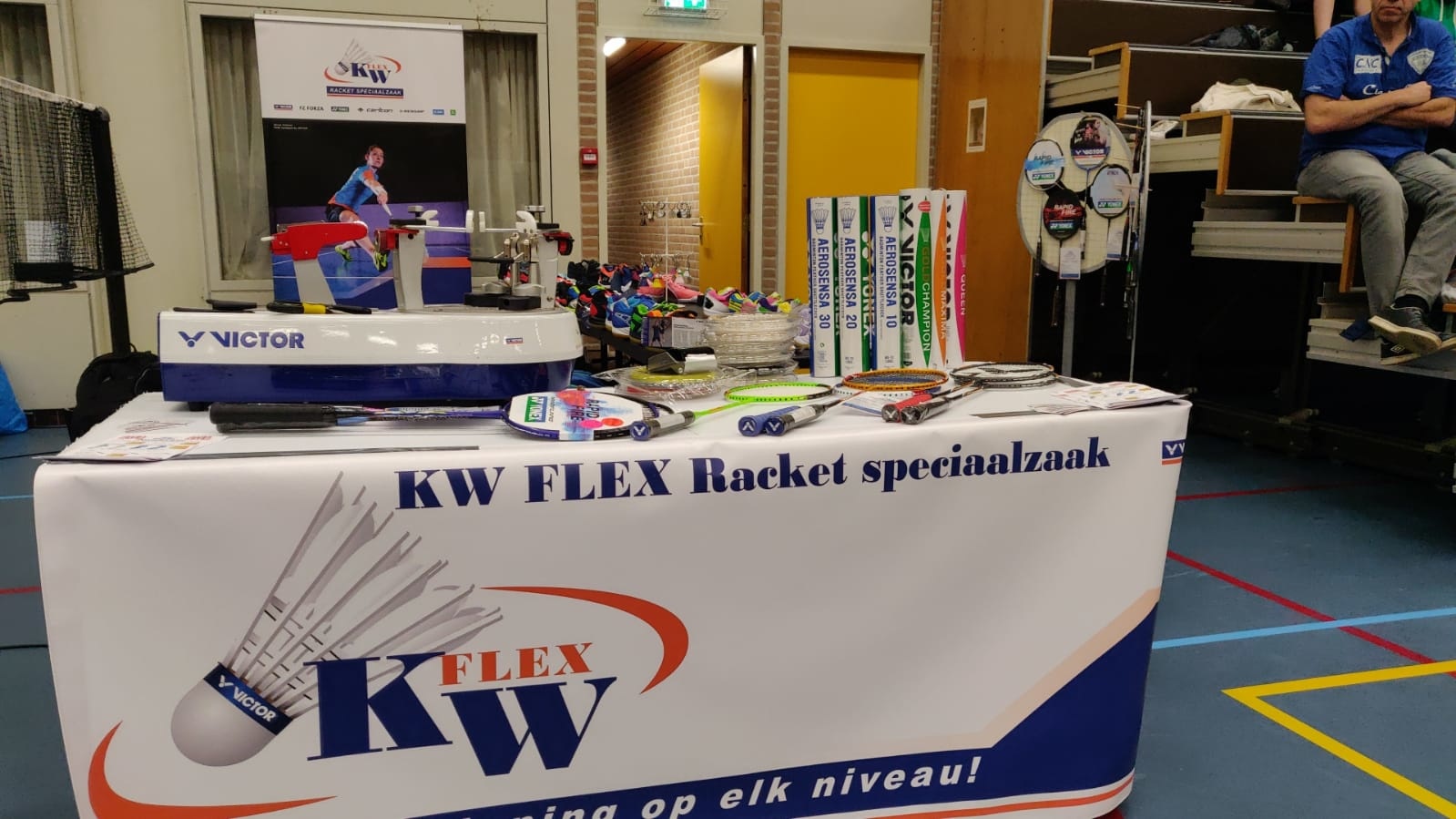 (From small stand to large stand, everything is possible)
Buying racket products online?
If you buy a product via the racket webshop, you can of course use the 30-day Satisfaction Guarantee. As a result, there is always the possibility to return or exchange the product if it does not meet your wishes. But of course, KW FLEX tries to provide you with the right product in one go by providing tailor-made advice.
String service
KW FLEX also has a stringing service, in which your badminton racket, squash racket or tennis racket gets the desired tension with the ideal weight. You can choose from a wide variety of string types in terms of quality and colors.
Question?
If you have any questions about products or are looking for something, do not hesitate to contact one of our employees. This can easily be done via the contact form, Facebook or you can call KW FLEX at 06-16501686.